!!! This page is outdated. For the latest instructions on accessing GIS resources remotely, CLICK HERE !!!
---
During the Fall 2022 semester, users with GIS accounts can access the GIS workstations in the GIS Center via eLabs. eLabs is a multi-platform system used to access applications in a virtual environment or to access remote workstations.
IMPORTANT: There are two important requirements for Cisco AnyConnect (VPN software) to work on your computer: 1. You must have antivirus software installed and updated. Enrolled FIU students can download free anti-virus software at https://panthertech.fiu.edu/livesafe/ 2. You must turn on your firewall.
---
Accessing GIS workstations via VPN and eLabs:
Step 1: Enroll in 2-factor authentication, if you have not already done so
Step 2: Download & Install the CISCO Anyconnect VPN client
Step 3: Login to VPN

Remember, you must turn on your firewall and you must have updated anti-virus software on your computer
Instructions to Log in with the Cisco AnyConnect client: https://fiu.service-now.com/sp?id=kb_article&sys_id=6c3c789ddb899780b16af969af96193d
Cisco AnyConnect will scan your computer to make sure it meets the FIU security requirements. Information on these requirements here: https://fiu.service-now.com/sp?id=kb_article&sys_id=bc95e660dbf5b780b16af969af961968
Summary of VPN login instructions:

Open VPN Anyconnect Client. From the drop down menu, select vpn.fiu.edu
If vpn.fiu.edu is not there, type it in
Click on "connect"
On next screen – type in your username and password
There will be a field that says second password. This is where you enter your 2fa code
Open your DUO app, tap on "TwoFactor" to generate the code and then enter it in the second password field and login

Step 4: In your browser go to the elabs

site

at https://elabs.fiu.edu

Step 5: If you don't have a Citrix client installed, once connected to elabs, it will prompt you to download and install the client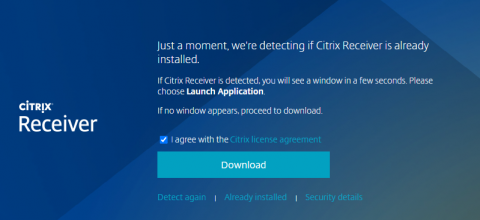 Once you have the Citrix client installed, you can go back to the eLabs page and click continue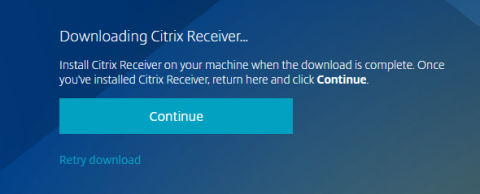 Step 6: Log in to eLabs

Students can just login with their username & password. But faculty and staff must enter their username in the following format: AD\username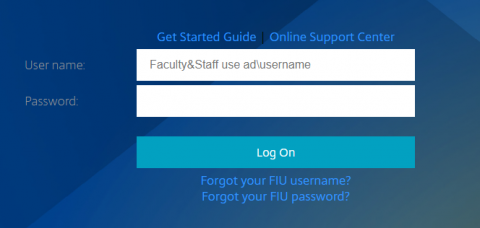 Step 7: Connecting to the GIS Lab

Once connected to both VPN and eLabs, you should see three tabs at the top of the screen. The tabs are "Home", "Apps", "Desktops". Once you click on "Desktops," you will have access to 2 groups of workstations: "GIS Courses" and "GIS Homework and Research." When in class, please use the "GIS Courses" group. When working on homework or research, please use the "GIS Homework and Research" group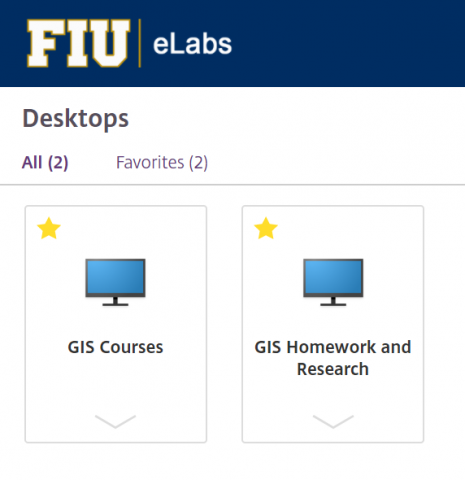 Step 8: SIGN OUT of the workstation when done

In order to free up the workstation for the next class/user, you must sign out using the start menu. Go to the Windows icon, click your user name, and select "Sign Out"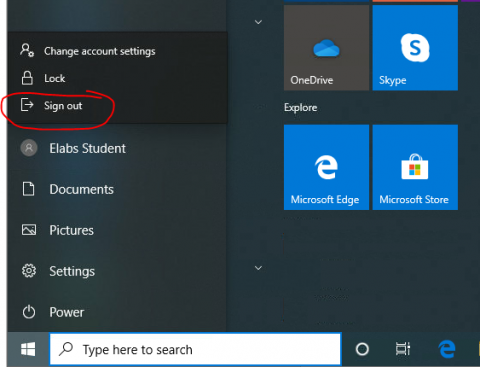 Additional questions about access?
For help with Cisco AnyConnect (VPN Client) please check  https://fiu.service-now.com/sp?id=kb_article&sys_id=d73f79d2db117200ff70785e0f961999.
For help with eLabs please check: https://fiu.service-now.com/sp?id=kb_article&sys_id=3a90f4e4db24d010ff70785e0f961940.
For help with a GIS user account go to https://maps.fiu.edu/gis/services/account-types/
Still have questions? Contact us at gisrs@fiu.edu, and at (305) 348-6443 or (305) 348-7949.